Find the original thread about the uTalk x LangFest quizzes and other awesome LangFest activities here: LangFest Activities 2021 (including uTalk Quiz!)
Putting these in a separate thread to avoid cluttering that one up
Thank you to everyone who came to the first quiz this afternoon (morning/evening). We hope you enjoyed learning about conlangs!
As mentioned, we have prizes for you this year, to be distributed as follows:
Each quiz is split into three distinct rounds and the top three players in each round will win:
3rd place = 400 uCoins (our in-app currency, worth ten topics)
2nd place = 600 uCoins (15 topics)
1st place = 800 uCoins (20 topics)
AND thank you to a generous offer from iTalki, the 1st place player in each round will also get $10 of iTalki credit. So that we can share these out fairly, we're generally sticking with the idea that you can only win $10 per day - but if you win first place on Monday, Tuesday, Wednesday, you'd still end up with $30.
We're also running a leaderboard for the highest score of the Conference and we've got even more prizes for that, which we'll be announcing next weekend.
For now, the leaderboard looks like this: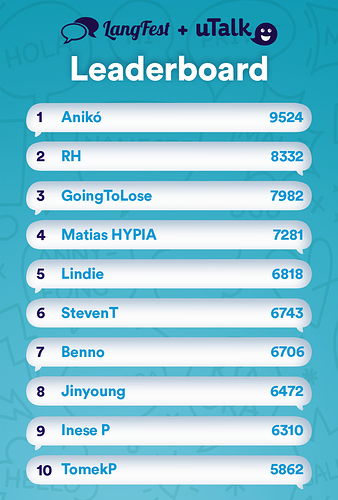 (If you want me to correct/change your name or see yourself on there twice, please let me know and I'll update it! It's tricky to sometimes tell from Kahoot nicknames!
)
Hope to see you all tomorrow - at the later time of 17:00 EST / 22:00 BST / 06:00 (+1) JST - for our Austronesian quiz!