I can't find the place to open the conference, I have been several minutes trying to join it.
Hi there! Did you sign up at the Eventbrite link?

Hi @MultilingualBronxite,
do you know if emails will be sent out to those of us who had to amend our registration with eventbrite?
Problems with tickets that just got resolved today…still hoping I can get the link before the event is over

Thanks!
Unfortunately, it seems that some users are having delays with the emails, but they should arrive soon, in a few hours. Hopefully it is much sooner than that.

Thanks for trying to keep us in the loop!
Yes, I did and I recived these 3 mails.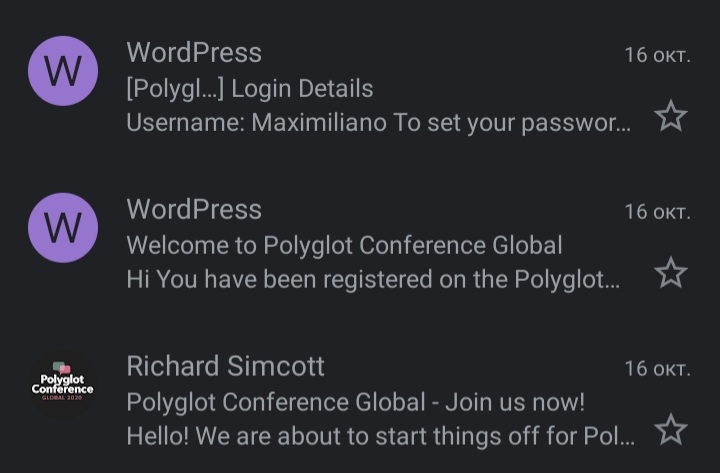 Unfortunately, no link on any of those direct me to the conference. There are just links to the main page of the conference, to change pasword and to update my profile. Could you give me instructions to join it please? It isn't clear what we have to do or where we need to go to join the conference.
I have no email from Eventbrite at all Yesterday I went straight to the universe but now I can't and everything just takes me back to these forums. I am very confused, could someone help me please.
Same thing happened to me yesterday!
Hey, can anyone advice, how is it possible to get in touch with the organisers? I also haven't received a link to the live environment after making a donation.
Update - I have received a link now, it just takes some time. See you all there

HI Maximiliano, did you receive any update on this? I have no idea where the actual link is for this conference. All I have is links to wordpress admin panel to change passwords, this is very confusing…
I have not received a link after making a donation either.
Hi Paulie! Not yet unfortunately, I have your same doubts and confusions. I'm still waiting for a properly answer.
OK , no problem, hopefully we hear back soon. I have made a separate post also, Saludos
Ok, I'm gonna check it out later, maybe you get an answer first.
Right. After going round in an (almost) infinite loop, and many expletives later, I have found a way. Whether it is the correct way, or works for you or not I cannot say. But give it a try.
Then login using your email and password (the one you probably defined whilst in the Wordpress admin hell).
You should have the 'Live environment' (I feel like I have been round Saturn several times already!)
Cheers!
Paul
Wow, what an unusual way to get in, but it works perfectly.
Thank you very much!
Good morning/afternoon - I also signed up via Eventbrite and have not received an invite to the live environment. Thank you, Josh
Hello !! When I want to sign up (register) to go to the conference, I always arrive on the forum. I don't know how to go to the conference environment. Thank you for help.
I'm having a similar problem - I bought a ticket on eventbrite, but no email arrived. Hopefully it's just delayed?