I am a Swahili native speaker, and I do enjoy teaching Swahili. Nice to meet you all
Hi Glory! Welcome! Is this your first Polyglot Conference?


Thank you so much and I appreciate
Hi Miguel, thank you so much

Yes this is my first polyglot conference and I am super excited ! How about you ?
It's my third Conference. The event is a lot of fun, you will like it and practice your languages.

You're welcome, Glory! Nice to meet you!
That is fantastic,
I'm excited !!!
Hi Glory!
My name is Loïc .I'm from Congolese background and my father's mother tongue is swahili. Unfortunately he did not teach us my siblings and I the beautiful language.I would be glad to from you and learn some words at least if possible!
Hi Loïc,
Nice to meet you here and thank you so much for this good comment

I
I believe you can still learn and became fluently
Welcome and meet me in class https://italki.com/teacher/null?ref=F0bHED
I will be more than happy to assist you learning swahili language . Karibu sana- you are very welcome.
Nice meeting you! Hope to learn some Swahili soon

Yeeeeh !!! That is great news
Nice to meet you too Ricardo and you are very welcome to meet in class for swahili lessons. Thank you so much

Yes, it's an easy language to learn. mtoto - watoto, kitabu - vitabu, etc… I like those prefixes
Absolutely! It is an easy language to learn.
Thank you for sharing Matias

I've just sent you a friend request on Facebook


Nina fahamu Kiswahili kidogo sana. Ninazungumza Kiingereza, Kijerumani na Kirenu.
There are some Swahili classes on schedule. Are you the teacher?
Hi Luciana , Thank you so much for the friendship

That is very nice of and i am proud of our friendship. Ninafurahi unapenda kiswahili . Yes i am a teacher for at least three lessons

Karibu sana rafiki yangu tujifunze pamoja
Hi Gloria,
I hope I can attend one of your lessons.
Ninafanya kiswahili kidogo kila siku. I'm still at very beginning


Asante sana rafiki yangu.
ASANTE SANA LUCIANA!
It will be so great to have you in class please welcome


I am excited already


I can't wait
Karibu sana Rafiki yangu
Hello Glory. I have absolutely no knowledge of Kiswahili, but would it be okay for me to attend your lessons anyway?
Mambo Glory!
Are ladybugs considered good luck among Swahili speakers?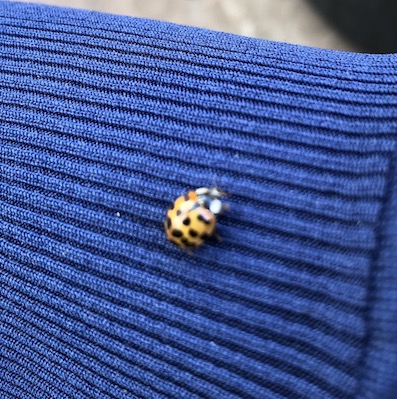 mwanamke mdudu